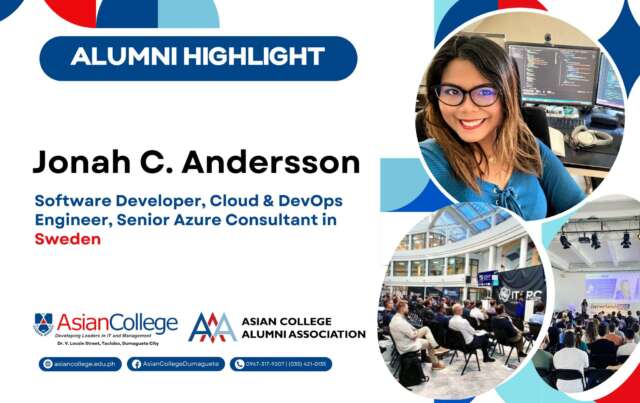 Software Engineer Jonah C. Andersson has 17 years of work experience in different industries since she graduated from Asian College (ACSAT).
She moved from Dumaguete City, Philippines, to Sweden in 2011.
In Sweden, Jonah studied 3 more years of software engineering at a Swedish college. She studied more about developing in different programming languages like C# in .NET and Java. She also gained technical experience and a reputation of high expertise in cloud computing and its technologies, such as Microsoft Azure.
She has worked as a Software Engineer, Cloud Engineer, and Azure Expert in Sweden. She is also the first female to be awarded Microsoft Most Valuable Professional for the technical category of Microsoft Azure in Sweden.
She also is also the founder and organizer of tech events at her local user group for Microsoft Azure, Azure User Group Sundsvall Sweden (https://www.meetup.com/azureusergroupsundsvallsverige/)
Jonah worked as a programming teacher or code coach in different classes in a few secondary schools in Sweden. She is passionate about making a difference and inspiring technology and programming others by sharing knowledge, building a tech community, and contributing her technical knowledge to the tech communities in Sweden and internationally.
She volunteers as a tech mentor in different non-profit organizations and groups like Ulap.org offers cloud scholarships to underrepresented groups in the Philippines, mentors other young women choosing a career in tech through different non-profit organizations such as Ulap.org in the Philippines, DataTjej in Sweden, and other women in tech initiatives. She mentors students in programming with Microsoft Azure, serverless, and .NET language.
𝗪𝗢𝗥𝗞 𝗛𝗜𝗦𝗧𝗢𝗥𝗬
🔹Tier 2 Technical Support Specialist at Teletech / TTech – Dumaguete City Philippines (2006-2008)
🔹Tier 2 Tech Support Specialist at Convergys – Cebu City Philippines (2008-2009)
🔹International Travel Consultant at StudentUniverse – Dumaguete City, Philippines (2009-2011)
🔹SEO Specialist at Total Pet Publishing – UK (2011)
🔹SEO Specialist at Link Builder – USA (2011-2013)
🔹System Developer Trainee at Monitor in Sweden (2015)
🔹Web Developer at Wikinggruppen in Sweden (2015)
🔹Web Developer at Cybercom in Sweden (2016)
🔹Programming Coach at Frontwalker in Sweden (2017-2019)
🔹System Developer & IT Consultant at Frontwalker in Sweden (2017-2020)
🔹Software Engineer and IT Consultant at Forefront Consulting in Sweden (2020- July 2023)
🔹Founder | Event Organizer at Azure User Group Sweden (2021-Present)
🔹Podcast Host at Extend Women in Tech Podcast (2022-Present)
🔹Author / Writer at O'Reilly Media (2021-Present)
My words of wisdom and advice to ACSATians.
"𝑭𝒐𝒍𝒍𝒐𝒘 𝒕𝒉𝒆 𝒅𝒆𝒔𝒊𝒓𝒆𝒔 𝒐𝒇 𝒚𝒐𝒖𝒓 𝒉𝒆𝒂𝒓𝒕 𝒂𝒏𝒅 𝒘𝒉𝒂𝒕 𝒚𝒐𝒖 𝒘𝒂𝒏𝒕 𝒕𝒐 𝒂𝒄𝒉𝒊𝒆𝒗𝒆. 𝑵𝒆𝒗𝒆𝒓 𝒍𝒆𝒕 𝒂𝒏𝒚𝒐𝒏𝒆 𝒐𝒓 𝒂𝒏𝒚𝒕𝒉𝒊𝒏𝒈 𝒔𝒕𝒐𝒑 𝒚𝒐𝒖. 𝑰𝒕 𝒊𝒔 𝒐𝒌 𝒕𝒐 𝒔𝒕𝒖𝒎𝒃𝒍𝒆 𝒂𝒏𝒅 𝒇𝒂𝒍𝒍 𝒘𝒉𝒆𝒏 𝒚𝒐𝒖 𝒇𝒂𝒄𝒆 𝒄𝒉𝒂𝒍𝒍𝒆𝒏𝒈𝒆𝒔, 𝒃𝒖𝒕 𝒅𝒐𝒏'𝒕 𝒔𝒕𝒖𝒎𝒃𝒍𝒆, 𝒔𝒕𝒂𝒏𝒅 𝒖𝒑 𝒂𝒏𝒅 𝒕𝒓𝒚 𝒂𝒈𝒂𝒊𝒏. 𝑮𝒐 𝒇𝒐𝒓 𝒂 𝒋𝒐𝒃 𝒐𝒓 𝒄𝒂𝒓𝒆𝒆𝒓 𝒕𝒉𝒂𝒕 𝒚𝒐𝒖 𝒘𝒊𝒍𝒍 𝒍𝒐𝒗𝒆 𝒂𝒏𝒅 𝒆𝒏𝒋𝒐𝒚. 𝑭𝒊𝒏𝒅 𝒂 𝒈𝒐𝒐𝒅 𝒎𝒆𝒏𝒕𝒐𝒓 𝒂𝒏𝒅 𝒊𝒏𝒔𝒑𝒊𝒓𝒊𝒏𝒈 𝒓𝒐𝒍𝒆 𝒎𝒐𝒅𝒆𝒍𝒔!
𝑫𝒂𝒓𝒆 𝒕𝒐 𝒃𝒆 𝒖𝒏𝒊𝒒𝒖𝒆𝒍𝒚 𝒚𝒐𝒖 𝒊𝒏 𝒘𝒉𝒂𝒕𝒆𝒗𝒆𝒓 𝒚𝒐𝒖 𝒅𝒐."
– 𝗝𝗼𝗻𝗮𝗵 𝗖. 𝗔𝗻𝗱𝗲𝗿𝘀𝘀𝗼𝗻 (𝗠𝗶𝗰𝗿𝗼𝘀𝗼𝗳𝘁 𝗠𝗼𝘀𝘁 𝗩𝗮𝗹𝘂𝗮𝗯𝗹𝗲 𝗣𝗿𝗼𝗳𝗲𝘀𝘀𝗶𝗼𝗻𝗮𝗹, 𝗠𝗶𝗰𝗿𝗼𝘀𝗼𝗳𝘁 𝗖𝗲𝗿𝘁𝗶𝗳𝗶𝗲𝗱 𝗧𝗿𝗮𝗶𝗻𝗲𝗿, 𝗦𝗼𝗳𝘁𝘄𝗮𝗿𝗲 𝗘𝗻𝗴𝗶𝗻𝗲𝗲𝗿, 𝗔𝘀𝗶𝗮𝗻 𝗖𝗼𝗹𝗹𝗲𝗴𝗲 𝗔𝗹𝘂𝗺𝗻𝗶)
If you need inspiration, feel free to read more about my journey to tech and software engineering though my blog story on my website.
Feel free to reach out through my website www.jonahandersson.tech, connect to me on LinkedIn or Twitter @cjkodare and follow Jonah tech events at her community user group Azure User Group Sweden
You are also welcome to check out and read my book "Learning Microsoft Azure: Cloud Computing and Development Fundamentals" (O'Reilly) or through my social and book links https://linktr.ee/jonahandersson.
If you need 30-day complimentary access to my digital early-release version, don't hesitate to contact me on LinkedIn or any of my social channels.
𝗝𝗼𝗻𝗮𝗵 𝗖. 𝗔𝗻𝗱𝗲𝗿𝘀𝘀𝗼𝗻
𝙎𝙤𝙛𝙩𝙬𝙖𝙧𝙚 𝘿𝙚𝙫𝙚𝙡𝙤𝙥𝙚𝙧, 𝘾𝙡𝙤𝙪𝙙 & 𝘿𝙚𝙫𝙊𝙥𝙨 𝙀𝙣𝙜𝙞𝙣𝙚𝙚𝙧, 𝙎𝙚𝙣𝙞𝙤𝙧 𝘼𝙯𝙪𝙧𝙚 𝘾𝙤𝙣𝙨𝙪𝙡𝙩𝙖𝙣𝙩 𝙞𝙣 𝙎𝙬𝙚𝙙𝙚𝙣
——————————————————————-
You may reach us at:
💻https://www.facebook.com/AsianCollegeDumaguete/
📞(035) 225-4714 | (035) 421-0135
📱0967-317-9207
🏫Dr. V. Locsin Street, Taclobo, Dumaguete City.
#ACer #ACSATIAN #CCSE #SuccessStories #AlumniHighlight