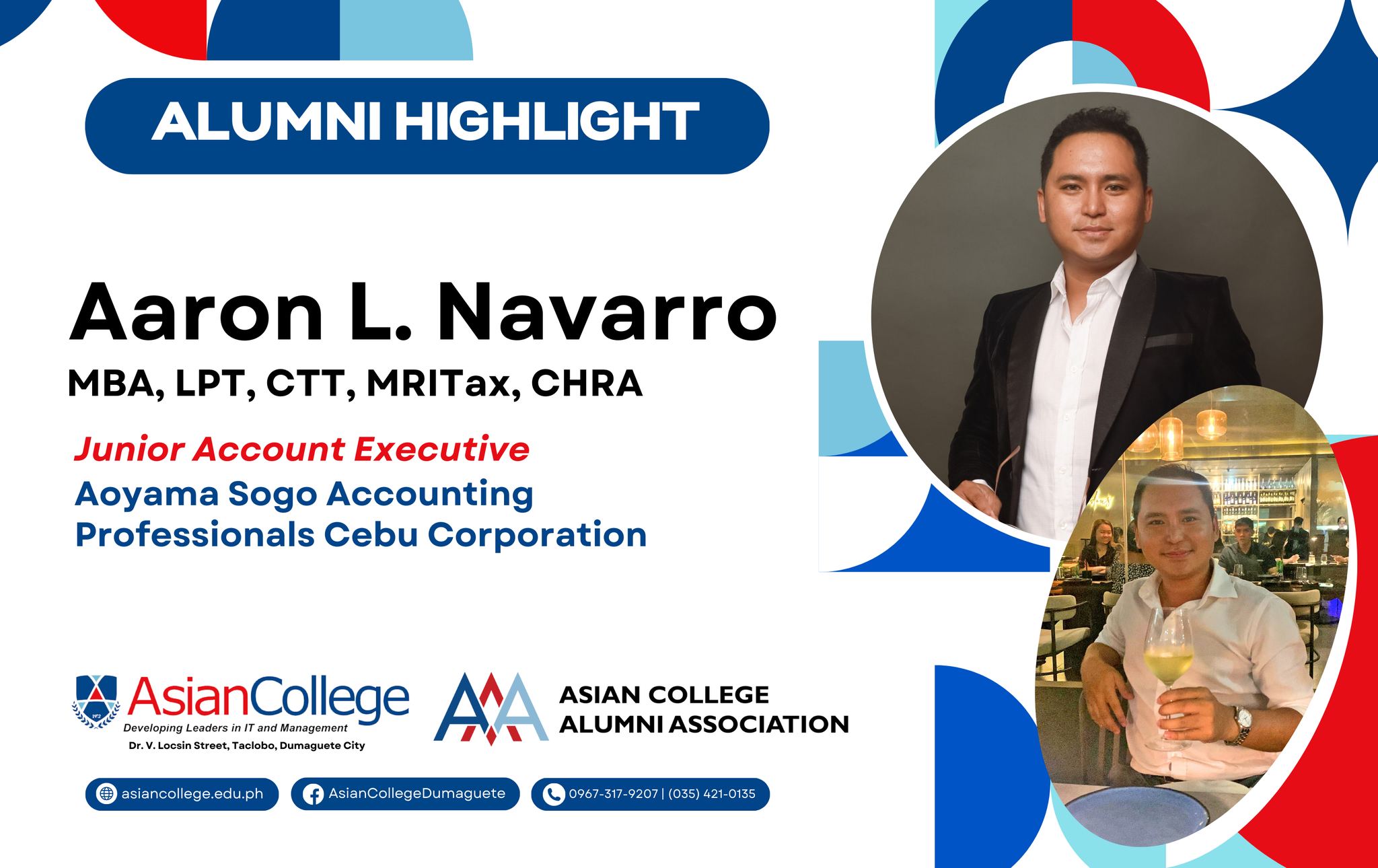 Aaron earned his degree in Business Administration focused in Management Accounting last March 2014. He has a proven track record in leadership as he exposed himself to various academic and non-academic organizations inside and outside the four walls of our institution. He served as the 1st President of the Asian College Student Council which was officially established in 2013.
He believes that learning is a process that should never stop. He finished his Master's Degree in Business Administration and passed several examinations administered by private and government units. He is a Licensed Professional Teacher, Civil Service Professional Eligible, Licensed Financial Advisor, Certified Human Resource Associate, Certified Tax Technician and a Tax Specialist Level III accredited by the Royal Institute of Taxation – Singapore.
After graduation, he was then absorbed by our institution to work as an Admissions Officer at the Admissions and Marketing department where he represented the school for career orientations and school's branding all over Negros Oriental. He likewise served as an Assistant Professor II in the College of Business Administration for 5 years. Aside from being an academician, he managed to juggle multiple job pursuing his career in accounting and finance. He worked as a Finance Manager in a construction firm in Negros Oriental where he handled cash controls and disbursements and financial reporting, and a part time Financial Advisor at Insular Life.
With greater opportunities, he currently jumpstarts another career in accounting as a Junior Account Executive in the Fund Accounting Team at Aoyama Sogo Accounting Professionals Cebu Corporation.
𝗔𝗮𝗿𝗼𝗻 𝗟. 𝗡𝗮𝘃𝗮𝗿𝗿𝗼, 𝗠𝗕𝗔, 𝗟𝗣𝗧, 𝗖𝗧𝗧, 𝗠𝗥𝗜𝗧𝗮𝘅, 𝗖𝗛𝗥𝗔
𝙅𝙪𝙣𝙞𝙤𝙧 𝘼𝙘𝙘𝙤𝙪𝙣𝙩 𝙀𝙭𝙚𝙘𝙪𝙩𝙞𝙫𝙚
Aoyama Sogo Accounting Professionals Cebu Corporation